---
---
---
Treat yourself to the benefits of salon-like cupping massage therapy any time in the comfort of your own home. Our transparent silicone cups are super-soft, fully flexible, and easy to use.
A perfect tool to get rid of cellulite "Naturally"
NON-INVASIVE  NO CREAMS  NO CHEMICALS
Just 

5 Minutes

A Day!
With daily use, you'll see noticeable results just like what you'd get with professional Anti-Cellulite cupping therapy treatments in less time for less money. Isn't it time you treated yourself right?
Removes Cellulite!

 

Use once a day with massage oil for a maximum of 10

 

minutes. You'll notice firmer, tighter skin with a reduced appearance of cellulite.

Improved Circulation!

 Our cups are modeled as those in traditional Chinese treatments but offer more flexibility for ease of use. Circulation is improved, and so is the texture of your skin.

Break down fat deposits!

 As the cups glide over the body they draw the skin into a vacuum, activating circulation and breaking down fat deposits that cause skin dimples

Reduce Inches! 

With a proper diet plan, our cupping massage therapy kit will help you shed inches and look and feel your best ever! 
Smoother & Firmer Skin Improves Skin Elasticity Promotes Lymphatic Drainage Relieves Muscle Pain
Ergonomic Design

Designed to fit perfectly in your hand. The size of the suction cup adapts to all areas of the body.

Ideal Density & Hardness

It's soft enough to conform to your body's contours and hard enough to  effectively treat the cellulite
Just 5 mins & 3 simple steps... for surprising results
Step 1

Apply any Massage Oil & lubricate the treatment area

Step 2

Squeeze the cup and place it at the bottom of the massage area

Step 3

Massage the area for 5 mins in Straight, Zigzag & Circular motion
Tip: Use two ShaperCups at once to save time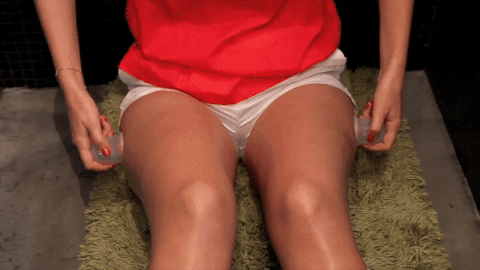 Areas suitable for ShaperCup
Why choose ShaperCup?
Effective

You'll notice a visible reduction in cellulite & firmer skin within 30 days.

Fast & Easy

Just 5 mins a day is all you need. Compact ergonomic easy to carry design.

Affordable

Costs less than any of the Anti-Cellulite creams and lasts forever.
Tips for Proper Use
Slightly, painful bruising is common with this technique in the first one to two weeks. With regular use, pain and bruising diminish and firmer and smoother skin is revealed.

To avoid bruising, Start slow with minimal suction power and gradually increase suction every day to let your skin get used to it.

Only use with massage oils or with soap in the bath

Use it daily to bring about your best results.

Until you get used to the massage cup, do not go back & forth without releasing the cup. Always massage in one direction only "Bottom → Top"
Recommendations
Do not use on skin with Varicose veins, Spider veins or skin problems (allergies, wounds, burns, recent stretch marks, etc.).
Do not use in case of venous or circulatory problems, or under anticoagulant treatment.
Not recommended for pregnant or breastfeeding women.

If in doubt, seek the advice of your doctor.
Size: 55mm x 55mm
---
---